❮❮ Click here to return to the main website and forum (viacraft.net) ❮❮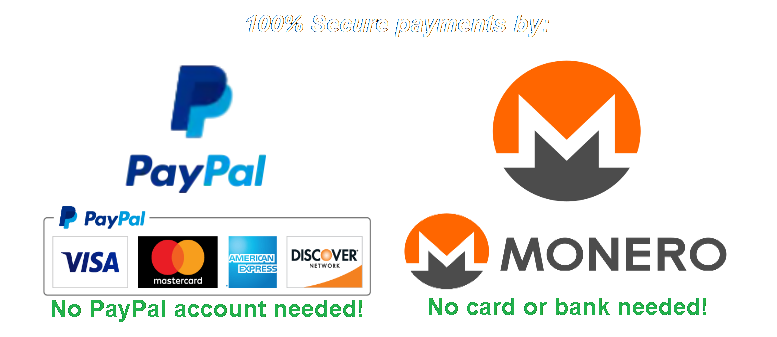 There is a $1.00 USD tax/processing fee on all purchases made through PayPal on this store. To use cryptocurrency to pay for something on our store, please contact support.


READ BELOW BEFORE MAKING ANY PURCHASES!
Viacraft Store
Welcome to the Viacraft Store. Here you can purchase unique items for yourself or a friend. To view information on a product click the "More info" button.
How can I make sure my purchase(s) are successful?
Make sure the minecraft username you entered is correct.
Make sure you are online in-game and have an empty inventory before purchase. It is also recommended that you go to a private area like your base when purchasing things that will take up space in your inventory. This will make sure that if it drops on the ground, another player isn't just gonna pick it up.
Make sure you selected the correct item you wish to purchase.
Make sure all billing information you entered is correct.
What do I do if I don't receive what I purchased or there is a glitch/error with the purchase?
Visit https://viacraft.net/support or email [email protected] if you believe the support staff is being corrupt or misrepresented your situation you can escalate to [email protected] this email should ONLY be used as a last resort.


Terms of Service
Terminology:
"IRL" means In Real Life.
"TOS" means Terms of Service.
"MC" means Minecraft.
"We" means Viacraft.net, Store.viacraft.net, Viacraft Store, Viacraft, and Viacraft staff.
By making any purchase(s) from our store (store.viacraft.net) you agree to the following:
1. We reserve the right to make any changes to your purchase(s), rank, rewards, benefits, contacts, features, etc. You fully acknowledge that what you purchase on this store may be changed at anytime without notice.
2. You agree that you will not present any legal challenge or issue with Viacraft, its Owners, Staff, etc.
3. Rank powers are a privilege not a right. We keep records/logs of everything you do on our servers and platforms. If you abuse your permissions or break the Community Guidelines, we will find out. And your permissions will be revoked w/ possible punishment with absolutely no refund of what was revoked.
4. We reserve the right to forcibly make you leave the server, permanently or temporarily, with no refund.
5. You agree that we can not be held liable for any harm our services may bring you.

Refund Policy:
Anything you purchase from our store is an "intangible virtual item". Meaning that it has no real world value, and if lost/used we can not retrieve it. ALL PURCHASES ARE FINAL THERE ARE NO REFUNDS WHATSOEVER. *
* The situations in which we do give refunds is limited to: Double charging for one item or if we believe a refund is justifiable due to circumstances provided. We do not provide refunds to claims of unauthorized purchases. It is your responsibility to make sure that your purchase(s) is made by the legal card holder, bank account owner, or PayPal account owner. ALL REFUNDS (PARTIAL OR FULL) IS AT THE SOLE DISCRETION OF VIACRAFT SERVICES.

Dispute Policy:
Any attempts to bypass our Refund Policy and TOS by filing a dispute/chargeback with PayPal or your financial institution will result in you being permanently Email, IP, and Username banned from all our platforms. You may also be banned from many other stores on the CraftingStore network and store owners who use similar systems to ours or those we have a partnership with; It will not only be tied to your MC Account, but your IP Address(es), Email(s), IRL Name, IRL Location, etc PERMANENTLY and is irreversible!

Privacy Policy:
The information we collect is so we can identify you and process your purchase. We collect data for legal accountability, verification, and administrative purposes.